We know that Automatic Backlinks can be difficult to understand at first. As with most powerful tools, it is important to fully understand how they work in order to get the most out of them.
This guide will help you to set up your backlink campaign to get the most out of it.
The backlink campaign setup
In your dashboard, click on the "add backlink campaign" button.

On the next page, add your campaign name, choose your site's topic, and the language of the sites on which you want to place your backlinks. In our case, we will create a campaign for our platform with the following info.

When you scroll further down you can choose topics of the site on which the system will place your backlinks. You can choose up to 5 relevant topics, I say relevant because it is better. For example, as an SEO platform we will have something like this: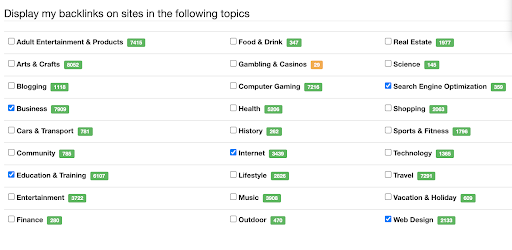 Scrolling further down you will have the following settings: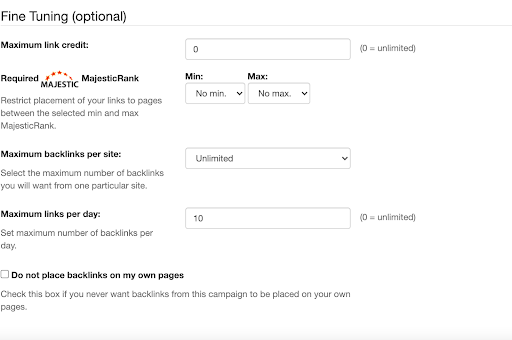 Maximum link credit is the amount of link credit that you want to spend on this campaign. 
For example, you have 100 Link Credit, and you have one site that you want to boost, so the best option here will be 0 (unlimited) or 100. 
In the first case, when you get more link credit the campaign will automatically spend more, in the second case, it will not spend more than 100.
Required Majestic Rank. As you may know, we accept only sites with 1 or more Majestic Rank (10 is maximum). Here, you can choose the minimum and maximum majestic rank for the pages where your backlinks will be placed. A bigger majestic rank means a higher quality of the site, however, it also means a higher cost per backlink. 
For example, you can see the difference between placing a backlink on 2.00 and 2.15 majestic rank pages in link credit cost.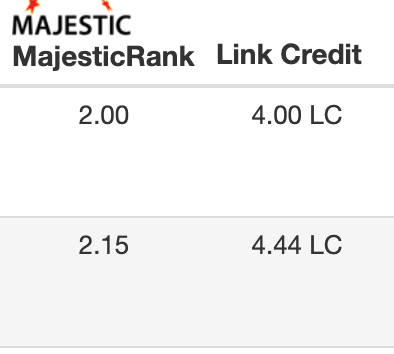 Next settings are pretty obvious. But here are some tips for you.
If you allow more backlinks per site, it means more placements to place your backlinks on. It will work better for users with bigger budgets per campaign.
Talking about the number of backlinks per day, we wouldn't recommend more than 10 backlinks per day, because it is better to get backlinks consistently than all at once. It seems more legit.
If you have a lot of sites you can place your backlinks from other campaigns on them, however, if you have a few, there is no need to place your own backlinks on them.
And the last thing that you can set up is the manual selection of TLDs.
However, if you aren't sure that you need it, we wouldn't recommend using it.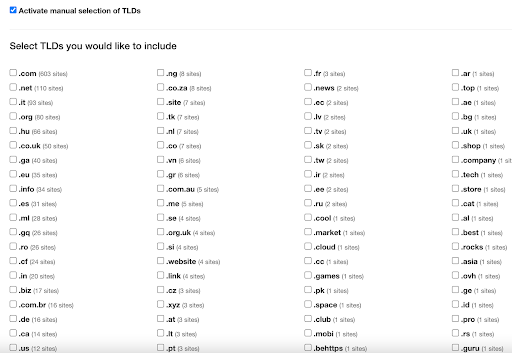 After pressing on the "save" button, you will be redirected back to your dashboard, and in the "Your backlink campaigns" column you will have something like this.

Your backlink campaign is set up, but you need to add link variations in order to start getting backlinks. To do so, please click on the "add link variations!" button.
You will open a new page where you can either add link variations one by one, or you can use link variation builder.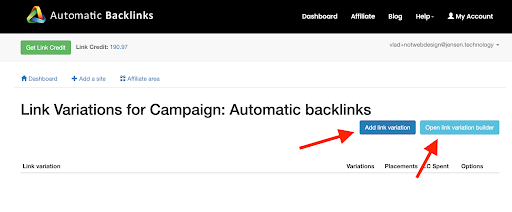 The first variant means that you will write every backlink text manually, it works well when you plan to have not a lot of backlinks. 
The second variant is good for creating a lot of backlink variations.
It doesn't matter with what variant you proceed, the thing that matters is actually the structure of a backlink. Let's have a look:
Every backlink should have leading text, link text, and trailing text. The link text is the most important part because the search engines track it. We would highly recommend adding there the exact match of the most relevant keywords for you. 
For example, we go to the google search console, check our keywords ranking, and pick several search queries which we would like to boost, and add them as a link text. Ideally, you should have something like this:

It is better to pay more attention to the keywords that get a lot of impressions. Your main goal should be to get to the first page of Google Search (1-10 position) and then to the first position. We also recommend having more than 5 link variations for every keyword (link text), it will look more natural.
My Congratulations! You have set up your backlink campaign. It is important to monitor and optimize it once in a while.