Hi there and welcome to Automatic Backlinks Setup Guide!
It will help you to get familiar with our service.
The main objective of Automatic Backlinks is to help you rank better on search engines by getting quality backlinks. In order to get backlinks you will need two things: available link credit and a backlink campaign.

Step 1. Get Link Credit
There are two ways of getting Link Credit:
Earn it by displaying other members' backlinks on your own sites
Purchase a monthly Link Credit subscription
Earn Link Credit
You can get Link Credit by adding your site to our system and allow our system to place backlinks on it. To do this, you either need to install the link display code on your site, or you need to edit the HTML code of your site.
We have an automatic link display code for PHP and ready to install plug-ins available for:
Using a plug-in
To install one of our plug-ins or the native PHP code, please go to your Dashboard and click on "Add a site". Here you can find all packages available for easy installation. For WordPress installations, please read the readme.txt file in the package to find information on how to install it.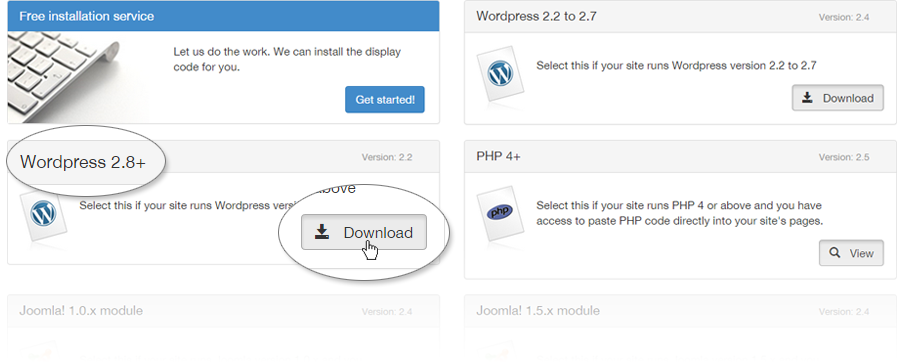 If your site or CMS uses a caching system, make sure that it does not cache content for longer than 60 minutes. This will prevent our link display code from operating normally.
Adding a site without a package
If we don't have a package available for your CMS and it is not powered by PHP, but you do have access to the HTML code of your site, you can still add your site as a manual site. Simply click on "Add a manual site", and share your site URL with us. Whenever our system finds a backlink for your site, we will send you an email with the backlink code ready to paste. Once you have placed the code on your site, please verify the placement by clicking on the verify button in the email.
Do not modify the code or place it on a different page than indicated in the email. Also make sure that you do not have any modules or plugins installed on your website that modify the way code is being saved. If the code is not 100% the same, our system won't be able to verify the placement and you won't earn any Link Credit for it.
Activate and configure your site
Once you have added your site to the system, you have to activate and configure it from your dashboard on Automatic Backlinks. Here you can configure the basic settings, such as the topics and language of your site. You can also specify what type of backlinks you are willing to display on your site using settings such as language and topic.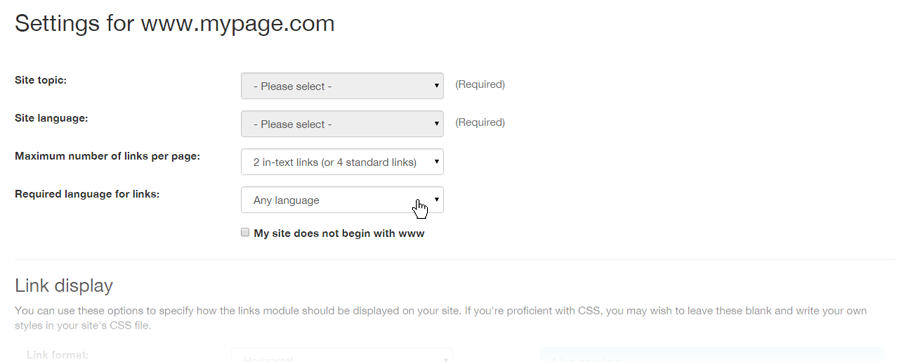 Once you click on "Save and activate", you will be brought back to your dashboard and all pages with a MajesticRank of 1.0 or higher will have been added. Clicking on the "View pages" button will bring you to an overview of all pages that have been accepted. Here you can find the MajesticRank of your pages and the backlinks that we have placed on your site (it can take up to 24 hours before we place the first backlink on your site base on all the data). You can also pause or remove pages if you don't want us to place backlinks on them.
Purchase Link Credit
If you don't want to place other users' backlinks on your site or if you want more Link Credit than you earn, you can buy Link Credit. The easiest and fastest way to get more Link Credit is purchasing a monthly subscription. Another way is to participate in our Affiliate program, which allow you to earn money and convert it into Link Credit.
Monthly Link Credit subscriptions
If you want to set up a monthly subscription, all you have to do is to click on the "Get Link Credit" button in your Dashboard. Then you can either move the slider, or write the exact amount of Link Credit you would like to purchase. After that click on Subscribe Now.
If your billing information has already been filled in correctly, you will automatically be forwarded to the checkout page. If some information is missing, you will be asked to fill out the missing information first. On the checkout page you can add a discount code. This code can be an affiliate code a user has shared with you or a general discount that we have offered through Social Media or other mediums.
All your invoices will be saved on your Automatic Backlinks account. To access your invoices, open the drop down menu by clicking on your email address in the top right corner, and select "Link Credit Subscriptions".
Please note that this is a monthly subscription. If you wish to cancel your subscription, please do so from PayPal.
Convert earned money from your money balance
If you participate in our Affiliate Program, you can earn money by referring other people to Automatic Backlinks. When someone you have referred to us makes a payment, you will receive 20% commission on that payment. The money will be added to your money balance where you can then either withdraw the amount or convert it into Link Credit.
Learn more about our Affiliate Program.
Step 2. Create a Backlink Campaign
You need to set up a Backlink Campaign in order to get backlinks back to your site(s). You can create a new campaign from your Dashboard by clicking on "Add backlink campaign" button. Here you can specify the types of web sites on what you would like placed your backlinks. You can select topic, language, TLDs and much more.
You can also set a maximum amount of Link Credit you are willing to spend on this particular campaign and set the maximum number of backlinks you would like to receive per day.
Once you have configured the basic settings, don't forget to create the Link Variations. These will become the backlinks that will be placed on other people's sites. You can build your Link Variations manually one by one by selecting "Add link variation", or you could use our link variation builder. By using it, you can generate many different backlinks quickly.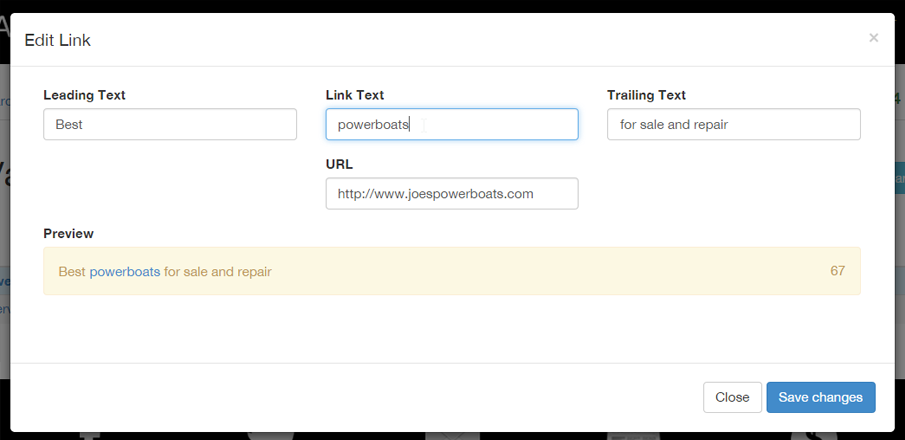 Some things to keep in mind
There are a few things to keep in mind:
Please make sure to follow our Quality Guidelines when adding your site to our system.
Don't worry if you can't immediately see links being placed on your site. Sites without any links placed on them are prioritized and new campaigns are created every day.
Be careful with how strict you set the requirements of your campaign. The higher the requirements, the more difficult it will be for us to place your backlinks.
When you first add your site, an activation message will appear on your site. This generally disappears as soon as you activate your site. Sometimes it might take a bit longer. This is related to our caching settings and the caching settings of your site.
Please have a look at our FAQ for additional information. If you have additional questions that don't get answered in this guide or in our FAQ, feel free to contact us through our contact form.