Automatic Backlinks uses Majestic Trust & Citation Flow metrics to assure the quality of our backlinks. Majestic Rank is a term that we use for a score calculated by Automatic Backlinks to replace the old Google Page Rank system that many users may be familiar with.
Google no longer updates PageRank, so it no longer gives an accurate account of a website's credibility. On the other hand, Majestic Trust & Citation Flow metrics are trusted by thousands of SEO professionals.
How to calculate Majestic Rank for your site
To find the Trust & Citation Flow scores for your website simply go to the Majestic website and paste your website's URL into the search box at the top of the page. MajesticSEO is free to use.
To calculate the Majestic Rank of any webpage you simply add the Trust Flow and Citation Flow together and divide by 20.
The picture below shows the Trust flow and Citation Flow from 2 different web pages. To get the Majestic Rank for the two pages you need this formula (TF+CF)/20.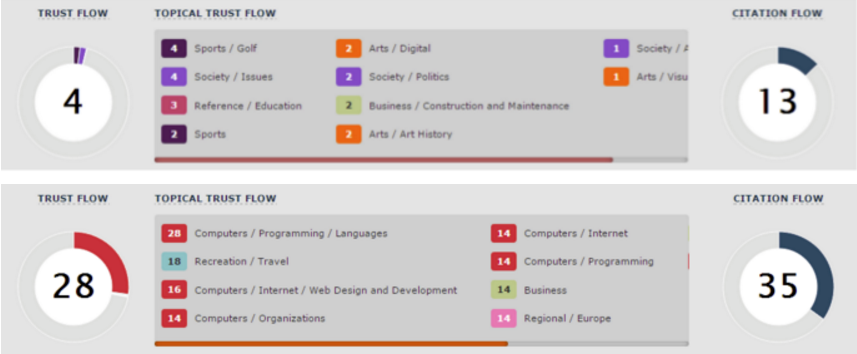 So for the first page:
4+13=17
17/20= 0.85
The MajesticRank for this page is 0.85
For the second page:
28+35=63
63/20=3.15
The MajesticRank for this page is 3.15
In order to qualify for inclusion in the Automatic Backlinks network, a page must have a MajesticRank of 1 or above.
It is also important that the value of either TF or CF cannot be 0. So a page with a TF of 20 & CF of 0 would not be accepted.
Since Automatic Backlinks only accepts pages with a minimum MajesticRank of 1, some users may initially be unable to earn any Link Credit by displaying links on their pages. However, you can still purchase Link Credit directly, by setting up a PayPal subscription to purchase Link Credit until your pages acquire enough MajesticRank.