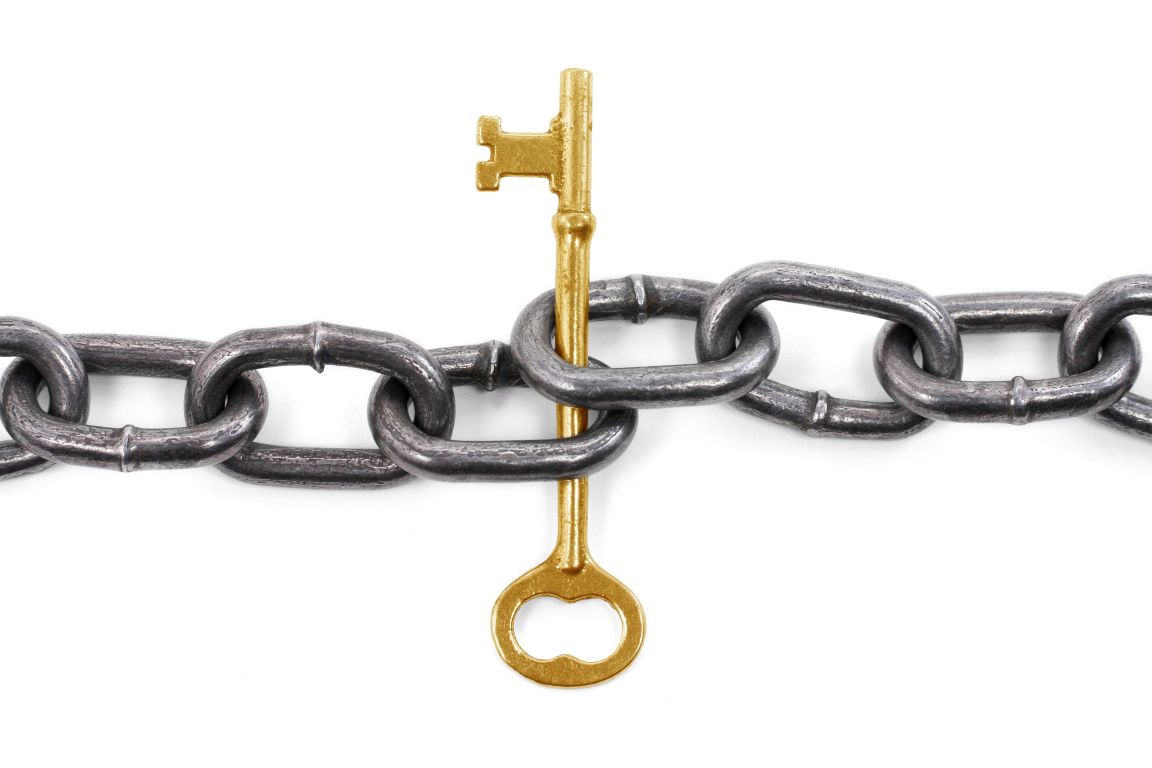 In the last few years, there has been much debate about the importance of backlinks. Some SEO experts have stated that backlinks are becoming less important. At Automatic Backlinks, we know that backlinks are just as important as ever, but we thought you should hear it from other SEO experts too.
Here are some of the most interesting and convincing studies about the continuing importance of Backlinks from the experts.
Moz
Moz's study examined the top 50 Google search results for approximately 15,000 keywords. This allowed them to examine what factors correlate with higher search rankings, and also how frequently those characteristics are seen.
The relationship between external links and rankings
One of the first things the study found was a strong relationship between the top search results in Google and the number of external links:
"Even more telling is the number of websites found in the top results that had external backlinks, or rather, the lack thereof.
Out of the top results, a full 99.2% of all websites had at least one external link. (The remaining .8% is well within the margin of error expected between Mozscape and Google's own link index.) The study found almost no websites ranking for competitive search phrases that didn't have at least a single external link pointing at them, and most had significantly more links."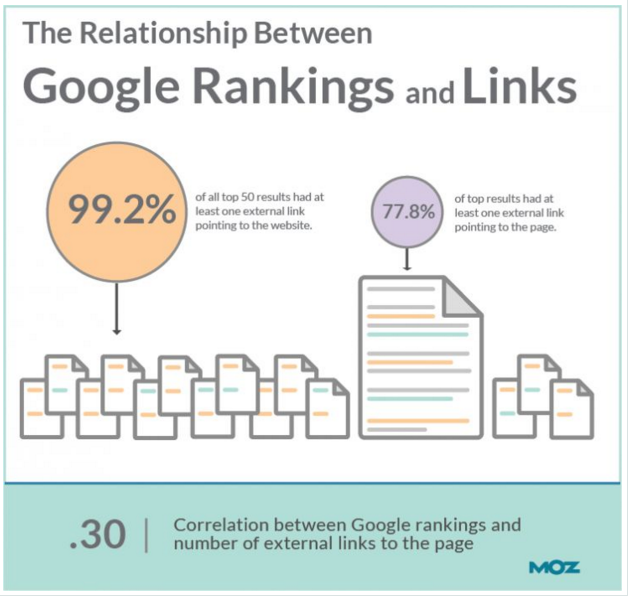 Image courtesy of Moz
What the data says about links and Google rankings
External links are almost always present for competitive searches
For keywords that are even remotely competitive, the chances of finding a website ranking without external links are very low.
It's possible to rank individual pages without links
As long as a website is linked externally, it is possible to rank individual pages even if those pages themselves don't have external links. However, there is a strong relationship between links to a page, and that page's performance, so it's preferable that the page does have external links.
More links correlate with higher rankings
The study confirmed the long-standing correlation between higher rankings and the number of external links found from unique websites.
Can you rank without links?
Non-competitive phrases, by their nature, are much easier to rank for. So for a website to rank without obtaining any backlinks, it might succeed by targeting obscure phrases like "Oregon beekeeper ballet emporium" or "Batman flux platypus." These phrases have much lower competition, and by default, much lower traffic (and in many cases, none.)
Stream SEO
Experiment. How many backlinks do I need to rank on the first page of google?
Here is an interesting experiment conducted by Servando Silva of Stream SEO
In the experiment, Servando tried to rank a couple of articles on the first page of Google by getting as many backlinks as he could. After one month he built between 20 to 50 backlinks to each article, and continued the experiment over a period of six months, concentrating on quality rather than quantity.
Did the experiment work? Of course, it did. Here are some of the things Servando learned during the experiment:
High PR links are what probably helped me the most to get my articles ranked after all this madness happened.
Longtail keywords are very important
Google loves Google – A YouTube video that had been published within 3-5 days was in the second or 3rd result of Google, while I was dropped to the 6-8th result.
Google Authorship helps. If you want to protect yourself from duplicated content or even negative SEO, there's no better way than validating your credentials with Google (in Webmaster Tools but also in Google Authorship). They'll know which was the original article and which are just copies trying to get backlinks or trackbacks from your blog.
Page Speed is also important
Social Backlinks Social backlinks do work, and most people know it, but nowadays having a good amount of social likes, shares, +1s, tweets, or similar, will also help you with SEO.
Mallee Blue Media
Why Backlinks are King
Here is another interesting article we found from late 2015. The article was created by Mallee Blue Media, a professional content and site management company. For those of you who still think content is more important than backlinks listen to what they had to say:
"You can put up zero content, have zero page rank, and aim for zero relevancy and still land the first page in Google. The content might be king for your customers, but it's not king in Google search results. Which is why I say, with some grief, and a little tongue-in-cheek, Backlinks are King."
So what led Mallee Blue to this conclusion? They carried out a little research. They found a website that ranks at the top of google for the competitive keyword "SEO Services" that amazingly enough has almost no content, terrible basic SEO, and yes you guessed it lots of backlinks. You can check it out yourself it's still ranked right at the top of google search.
Highlights from their analysis:
The key phrase appears at the end of their home page meta description. Almost all other pages (about 12 pages in all) on site have no meta description at all.
Headings on Home Page
<H1>: Welcome to Boost SEO
<H1>: Australia's only exclusive Search Engine Optimisation company.
<H1>: CLIENTS that all wish they were WORKING WITH US
<H1>: Awards
<H2>: Due to high demand we are not taking new customers until 5/03/2014
<H2>: Please enter your details below and we will contact you shortly.
<H2>: Who do you find more attractive?
<H2>: Things we are good at
<H3>: Lara Bingle
<H3>: Miranda Kierr
<H3>: Delta Goodrem
Hmm, barely a keyword-relevant to our search. Aren't my H1 tags important for SEO?
Images We found 7 images on this page. 5 ALT attributes are empty or missing.
Text/HTML ratio 8.55% Or, as SEO Quake would say,
"Ouch! Your website's ratio of text to HTML code is below 15%. We suggest adding a lot more text to your website. You can strengthen your SEO by increasing the recurrence of keywords on your page and adding more text that pertains to your website's content."
XML Sitemaps
Not found. I mean, what would be the point, anyway?
Robots.txt Found one! – phew!
Home Page Content. Totally irrelevant content for all but one paragraph which uses the keyword four times.
Isn't longer content (2,000 words or so) the need of the hour if you want to rank well?
About Us, Blog, Contact Pages Empty, meaningless, and did I mention, empty? No signs of life here, except the claim that they have an office in every state.
Just look at their Social Media Accounts
Seriously, go over and click on them. You all know how important social media is, right?
Page Rank Zero. Nix. Nada. Nothing.
So what does Matter? Backlinks Matter
Just how did this website get to the top of Google so fast? Backlinks of course. Take a look at the picture below.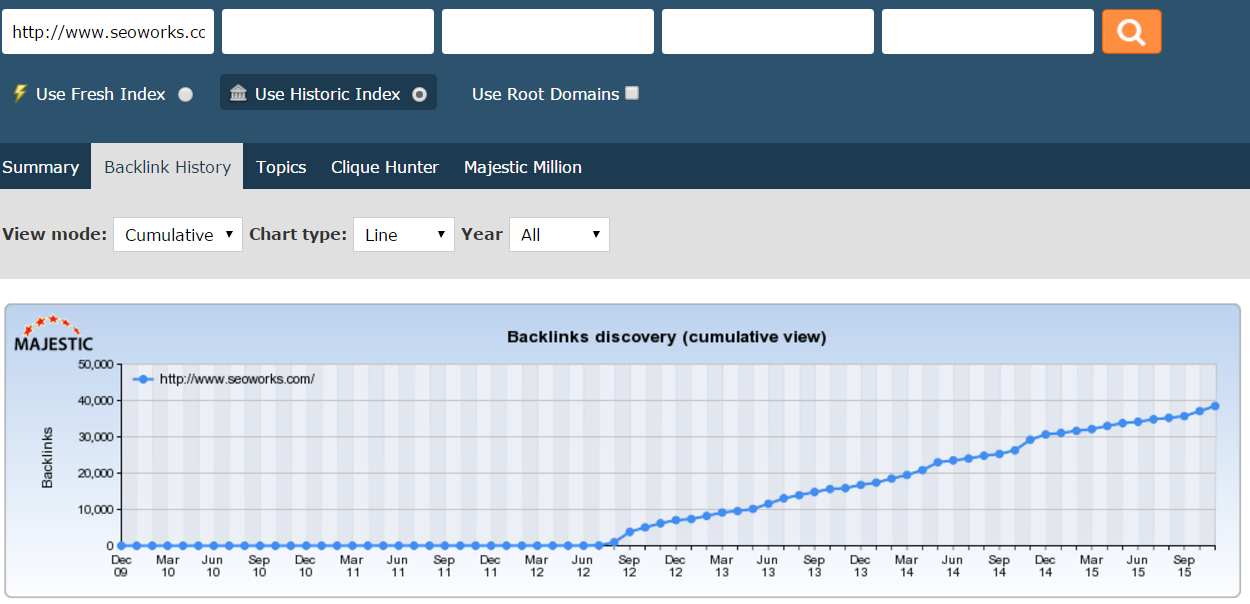 The website today has around 40,000 backlinks. Since late 2012 they have built between 500 and 1000 backlinks every month. That's a lot of backlinks for a website that has published almost no content.

Given the lack of content and basic SEO, backlinks are the only possible reason this website could rank at the top of the SERP's. And this website is by no means a rarity. There are lots of similar websites out there doing the same thing.
Conclusion
For us, there was never any doubt that backlinks remain the most important ranking factor. Sure content is important, social media helps and basic SEO still works. But without backlinks, there is very little chance of a website ranking on the first page of Google for many competitive keywords.
Of course, we are not advocating a backlink only approach like the website above, we want to find great content when we search Google as much as anyone else. So keep creating great content, just don't forget that if you want anyone to see it, you're going to need some backlinks too.